When I decided to add
a kids homeschool geography course from
Let's Go Geography to our collection of resources here, I was looking forward to using it as a supplement to a monthly geography club I've been running for several years. Life changed, though, and that club is now on hiatus this year. Luckily, my children's geography studies are not, in part thanks to
Let's Go Geography.
What Is Let's Go Geography?

Let's Go Geography is an easy-to-use, hands-on
homeschool world geography curriculum for kids in grades K-4 (but, in our experience, can be used right up to the middle school grades for review and fun.)

The program was created by Carol Henderson, a homeschool mama of five turned primary school teacher, so, as you can imagine, it has solid traditional learning activities that meet curriculum standards while also offering the flexibility that many of us homeschoolers desire.

The program is delivered digitally and comes with printable teacher resources, which include audio and video links, as well as printable student pages. Thus, the curriculum hits the three main learning styles: visual, auditory, and kinesthetic. The following video explains the program more:


For those that prefer a written explanation, let me detail the program for you:
In a single year, the program takes you and your child through all of the continents, virtually stopping in various regions and countries along the way. (See image below to know which countries are included in which year of the program.) Each lesson is meant to take one week to complete with the lessons being spread out over 36 weeks, inclusive of break and review weeks.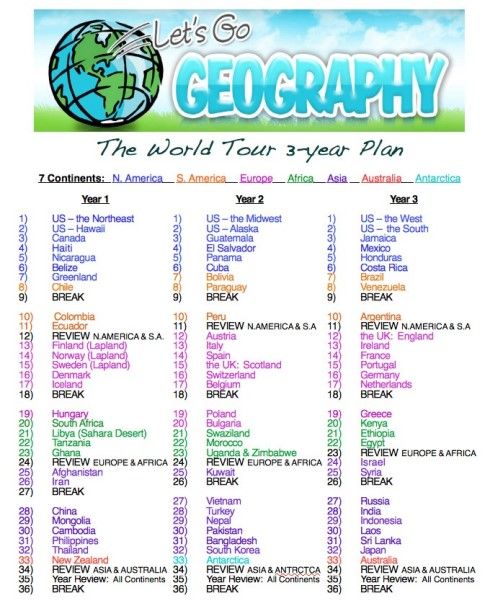 To use the program, it is recommended that you create a travel journal in a 3-ring binder, and, if you wish, make a passport, too (available on the website.) For your travel journal, you receive several printable cover options with your
Let's Go Geography curriculum.

Dividers for each continent are also recommended for your journal.

Once you've made your travel journal, you can get started with Week One of he curriculum or pick a locale of your choice further along in the curriculum to study (depending on if you purchased
the program as a whole year, a semester, or individual lessons.

To study your chosen locale, you will bring a full-color teaching resource up on your computer (or print it out) and print pages for your child to work on. These pages include maps of the country, a flag of the country, and a coloring page of a landmark in the country. You will also be able to access links for music for your child to listen to and videos for your child to watch.
In addition, if you want to explore your chosen locale more, you can go to the library and check out recommended books, and you can also enjoy a craft with complete
directions included. Finally, you can wrap up with writing if you wish since notebooking pages are included.
Review weeks, of course, are a bit different. On these weeks (which fall every 12 weeks if doing the curriculum in order), your child will review prior learning by labeling and coloring locations on maps, matching flags to countries, reading some facts, and coloring some printables.



How We Used It and What We Thought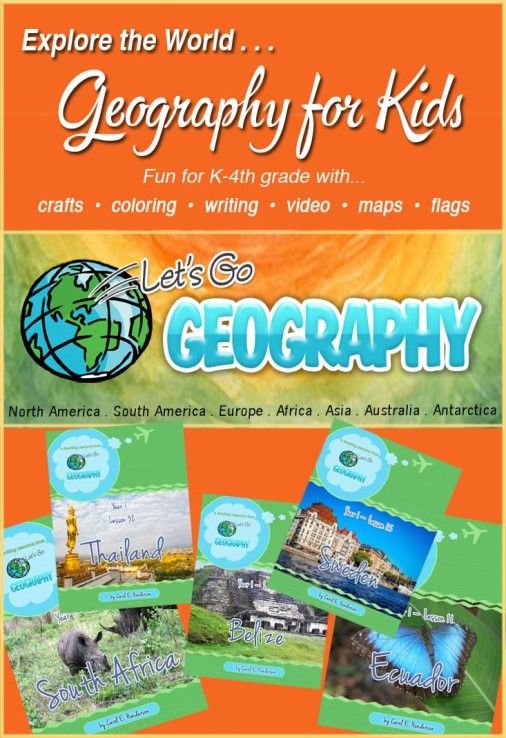 Let's Go Geography is designed so that you study one locale a week for about an hour's time - all at once, or in smaller bite-size pieces - and, then, if you wish follow bunny trails from there. In an ideal world, my children and I would have used the program as such so far. However, nothing is ever ideal in our reality, so, instead, if I am to be honest, some weeks, we meant to get to the geography lessons and did not and others we were going to do the bite-sized pieces, but needed up doing a more-at-once approach. And, therein lies one of my favorite parts of this homeschool geography curriculum: flexibility! You can use it for an hour every week, or for 10-20 minutes several times a week, skip some weeks, do more other weeks, dig deeper as time and interest allow or just do the basics and know you are helping your children become more world geography literate.

Another thing I appreciate about
Let's Go Geography is that it is so well-organized. As I did some lessons with my children and looked around at other lessons, I thought, Now, why is THIS the year Geography Club is on hiatus for us? So much of my legwork would be done! For, indeed, between printable maps, links to music and videos, coloring pages, crafts, flags, and more, I would have very little to do to prep for any given club week beyond taking out library books and letting the kids run wild with inspiration as they dug deeper to create their own "expert reports". Alas, Geography Club is not going to happen this year for us due to conflicts in scheduling, but, with the organization and ease of
Let's Go Geography even with all the busyness of life, I know that pulling some organized geography into our life and learning without having to do much more than click, print, and grab basic supplies will be a breeze.

Then, when we cover all the material, we can enjoy the year end (or maybe longer for us?) review
, which consists of two games ("I Spy" and "Where in the World") and an end of the year project - an easy-to-put-together lapbook "suitcase".

Thus, indeed, I think that
Let's Go Geography is ideal for any homeschooler (or school teacher for that matter) who wants to help children get beyond the surface of geography without requiring everyone to dive full-on into, say, deep unit study studies.
Bite-size pieces, set up as a regular routine which can be adapted to your own routine give the curriculum substance and flexibility.

As I completed some parts of the curriculum with my children and took in the gist of other parts, I kept thinking, It's all there for us! Carol Henderson has pulled together something similar to what many of us geography-appreciating educators might and has done such a quality job with the legwork of research, organizing, and linking, that we can simply enjoy the learning without the fuss of putting things together ourselves. Maps are there. Videos and articles are available at the click of a provided button. "Sightseeing trips" and music - as well as basic crafts - are included... Yep, it's a solid, ready-made resource!

Plus, since
Let's Go Geography is accessed online, but has downloadable printable portions, it can be used on and offline (which is a boon in my book!) by families with children of multiple ages. This makes the program convenient, hands-on, and family-friendly! Suggested adaptations for varying age groups are even included.
In our family, elementary and middle school aged children used the curriculum.

Before my kids went to bed and I sat down to write this review, I asked my children to give me a quick thought or two about it.

My seven-year-old said:
I liked coloring the maps, watching the videos, and everything.
My eleven-year-old said:

I liked finding capitals on the map and watching videos.

And, my ten-year-old said:

I liked that it had maps and things you could color in and also videos to watch. I also like that it teaches about different places around the world.

So, there you have it! The kids like it. I appreciate it's organization. We all would recommend
Let's Go Geography!
Learn More

The Let's Go Geography will eventually span three years of learning, but currently offers only two semester's worth of teaching, which covers nearly 30 countries


The program, as I mentioned before, is available for purchase as a whole year, a semester, or individual lessons. For a taste of the program, there are SAMPLE FREEBIES available for download. There are also frequent special offers, such as the current 25% off sale when you use the COUPON CODE:
BackTS25
.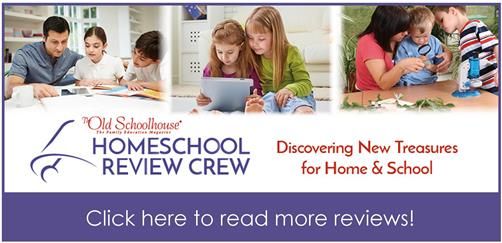 Eighty-five Homeschool Review Crew families
t
ried out
Let's Go Geography, some going through the lessons in order and others skipping around to specific location studies. So, be sure to click through the banner to see photos and thoughts about the different learning, crafts, and activities everyone enjoyed.

Get social with
Let's Go Geography on: